Like most Americans, each September 11th, I reflect on how much our country lost that day; the thousands of lives shockingly, and suddenly taken; and how quickly fellow comrades rushed to aid victims. That fateful day, seventeen years ago, brought out the best in our fellow citizens, but tragically, also revealed the worst.
On this September 11th, ironically perhaps, I will be lying in the hospital as my doctors perform sinus surgery, my second in two years. Although not in Manhattan, or Washington D.C. on September 11th, I am a victim, and a survivor, of the terror that reigned down upon our country in 2001.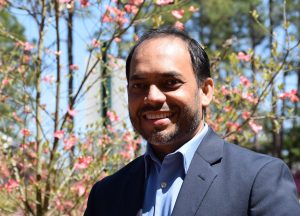 I watched, as so many had, the terror that unfolded that sunny September day. I too was fixated on the news as jets came barreling toward thetwin towers and pentagon. As I watched the towers fall and speculation begin about the perpetrators, I couldn't help but begin to worry. As the days unfolded, I began to have nightmares – for three nights in a row – waking in panic, having witnessed myself being shot in the convenience store where I worked. It had already begun happening. For many of us, the horror, fear, and violence, just began once the twin towers fell. Customers began harassing, taunting, and threatening me. Four days after September 11th, a shop owner was shot to death at a nearby store.  I was so alarmed I begged my boss to activate the decoy security cameras and keep two clerks on shift. Unfortunately, he did neither.
On September 21st, ten days after 9/11, as rescuers searched debris for signs of life, our country deep in mourning, a newfound fear and uncertainty over us, I began what would be my last day of work as a clerk in South Dallas. Around noon on this stormy Friday, while I remained behind the check-out counter, a man wearing a baseball cap, bandana, and sunglasses, carrying a double-barrel shot gun slung along his side, walked in. As he pointed the gun directly at my face, he asked, "Where are you from?" Before I could utter anything but "Excuse me?" he pulled the trigger. From point blank range.
As I reflect upon 9/11 again this year, this time while in the hospital, I remain grateful for my second chance at life. As I approach my 'ReBirthday', I celebrate the purposeful life my God afforded me that afternoon while I lie in my own blood, alone, on a convenience store floor. On my deathbed I vowed that should I survive, I would live each day helping others, and as a human rights advocate, peace activist, non-profit leader, and motivational speaker, I have the opportunity to try and combat the hate and violence that has plagued our country for far too long. I founded the nonprofit, World Without Hate, with the hope we might all build bridges among one another, as opposed to walls; that through our own powerful human attributes of forgiveness, compassion, empathy, understanding, and acceptance, we can begin to see how much more we have in common than that which seems to divide us.  I see 9/11 not only as a tragic day in American history, but also a time of unity, solidarity, and coming together, despite our differences. Did anyone hesitate because of skin color before running into the burning towers to help others escape? Did anyone pause to ask another about their religion before scooping them into their arms and carrying them further to safety?
While in surgery, my doctors will try to remove some of the bullet fragments I still carry. Constant reminders of my attack, nearly three dozen pepper the right side of my face and skull. The shooting also left me blind in my right eye. The physical disabilities, perhaps, pale in comparison to the mental and emotional toll my hate crime has taken. For a survivor like me, great comfort comes when I have the opportunity to speak to or work with my fellow citizens as they come together, taking initiative to understand and accept each other, finding ways to help make strides for a peaceful, safe, and united nation for all.
It is high time for us to pause and reflect, to truly see where we are heading. The terrorist attacks took thousands of lives, destroying countless others, including mine. As a nation, we come together each year, rightfully so, to remember and show support for the victims and survivors. However, innocent victims of post 9/11 hate crimes remain unnoticed and unsupported. From 2001 to 2016, half a million people lost their lives from gun violence in this country. Hate crimes are once again on the rise, increasing by 12% in 2016-17 alone. Enemies of our freedom and democracy are sowing seeds of radical, racial conflict, dividing us through our own social media, revolting rhetoric and intolerant behavior, where blaming the "other" has become the norm. This is not who we are; this is NOT our America.
As we come together to pay our respects on this seventeenth anniversary, I urge us all to remember the thousands upon thousands of people who protected, saved, and comforted one another. Recall, in the midst of your mourning, the strength in unity and patriotism shared during such chaos and unknown. We can indeed come back together. The lessons I've learned from my traumatic experience, and the journey I've taken, moved me from a place of pain on the deepest level, to a place of hope for a kinder, just, and more accepting world.
Join me, in honoring all those lost and affected on this tragic anniversary, pledging to proactively denounce ignorance, intolerance, and hate, treating all people equally, as humans first, regardless of our visible or invisible diversity. Let's show the rest of the world that we are indeed stronger, and united as one nation, just as we demonstrated seventeen years ago.
---
Rais Bhuiyan, a post 9/11 hate crime survivor is the founder of World Without Hate, an international speaker, & the subject of The True American, Murder & Mercy in Texas.